This is the Jim Green "Green Elephant" Vega,using the superb Slixx decal set with a Revell kit.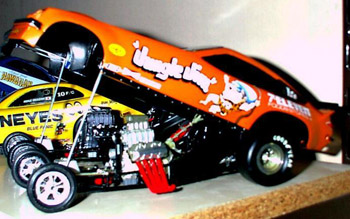 Jungle Jim's last Monza.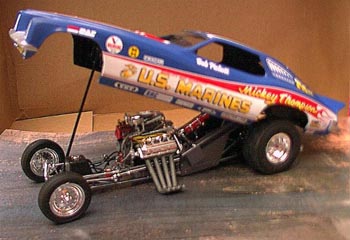 U.S. Marines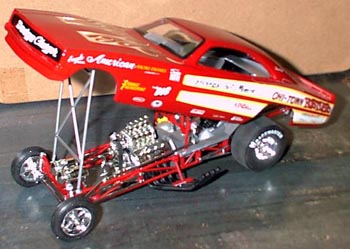 Chi Town Hustler,using Polar Lights Hawaiian + Slixx decals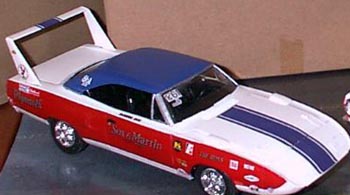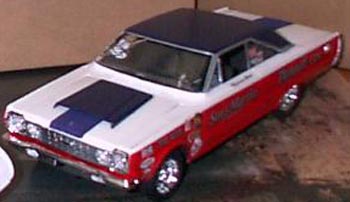 Sox and Martin Superbird and GTX,made from one Slixx set and some computer generated stripes down the center of cars.I used the re-released Revell Richard Petty Superbird and the Revell Sox & Martin GTX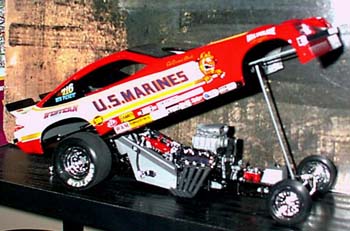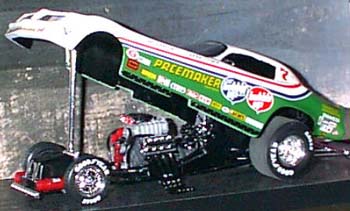 THIS IS THE BUBBLE UP TRANS AM OF GORDIE BONIN,USING A COMPETITION RESINS 1/24th BODY AND A SET OF SLIXX DECALS OVER A LATE REVELL CHASSIS (FRUIT OF THE LOOM AVENGER)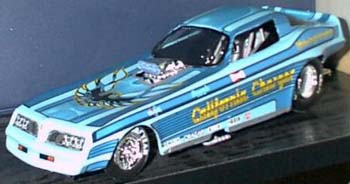 CALIFORNIA CHARGER,USING COMPETITION RESINS BODY AND SLIXX DECALS ON A LATE REVELL CHASSIS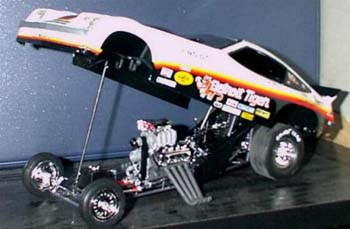 TOM PROCK'S DETROIT TIGER MONZA,USING RE-ISSUE PRUDHOMME ARMY KIT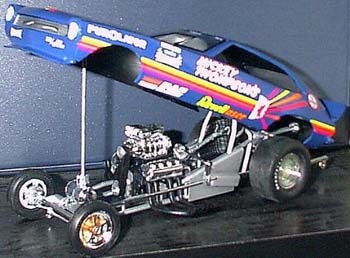 M/T REVELLASER PINTO,USING AN ORIGINAL REVELL KIT,LOCATED FROM SWEDEN, WHICH HAD BADLY FADED DECALS,SLIXX TO THE RESCUE!!!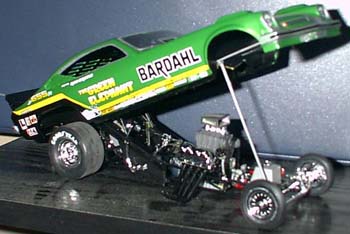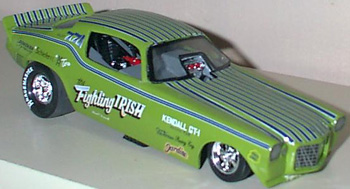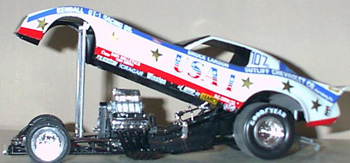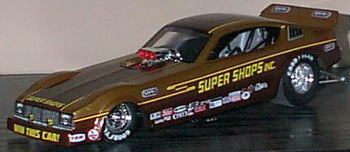 Super Shops Arrow,using Competition Resins Arrow and late Revell chassis.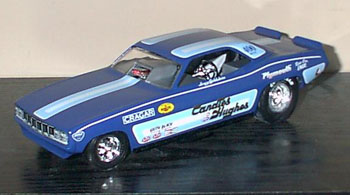 CANDIES & HUGHES CUDA,USING MONOGRAM BLACK MAGIC CUDA KIT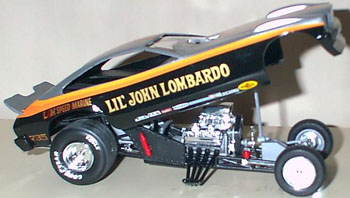 LIL JOHN MUSTANG 11,USING AMT BUDWEISER KIT AND SLIXX DECALS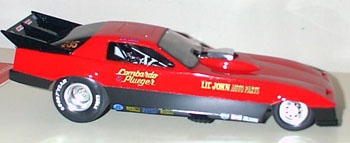 LOMBARDO & PLUEGER TRANS AM,USING MONOGRAM WARRIOR KIT AND SAME SLIXX SET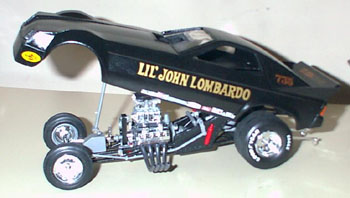 LIL JOHN OMNI,USING AMT CHI TOWM HUSTLER KIT AND ANOTHER SLIXX LOMBARDO SET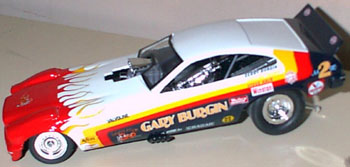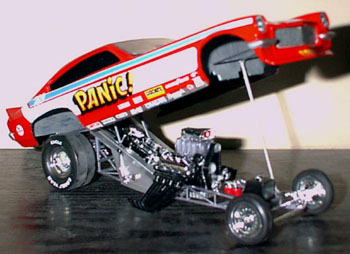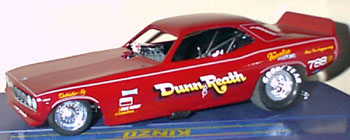 Dunn & Reath Cuda,using a Competition Resin body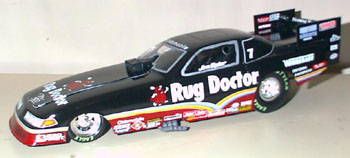 Rug Doctor,using a heavily modified Revell Force Castrol Olds,rear wing made from Slixx template.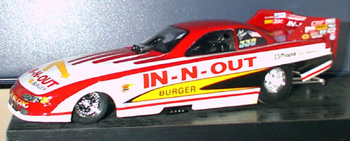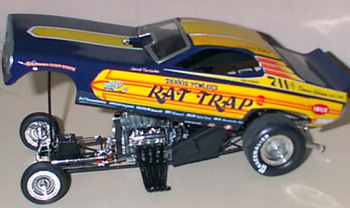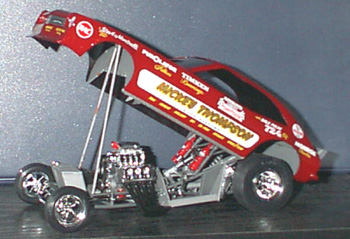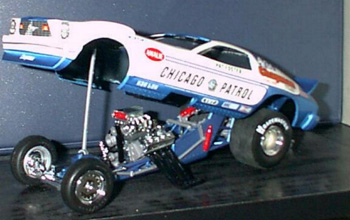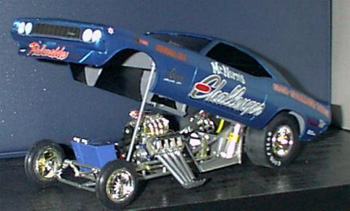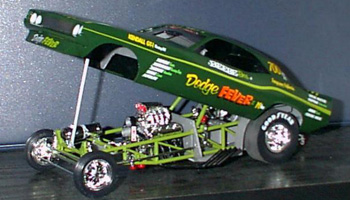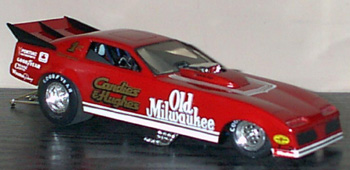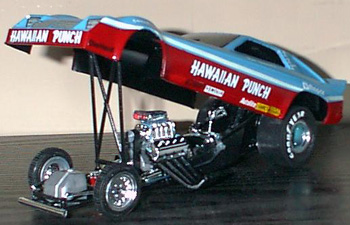 this is the Hawaiian Punch Charger of Roland Leong,built using a MPC Nitro Charger kit and Slixx decals.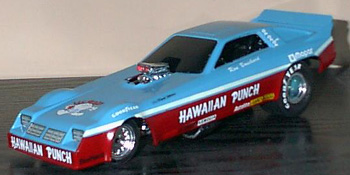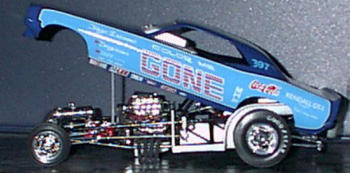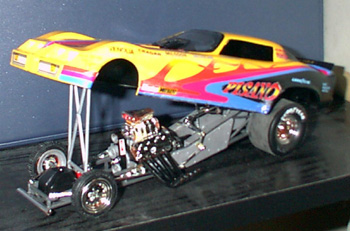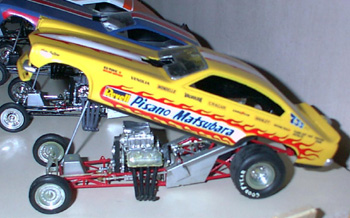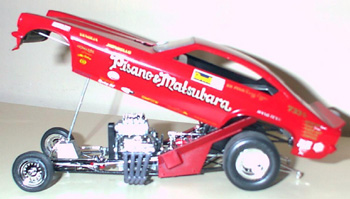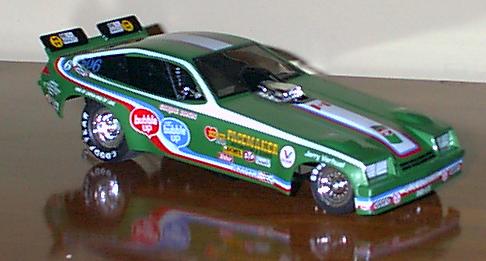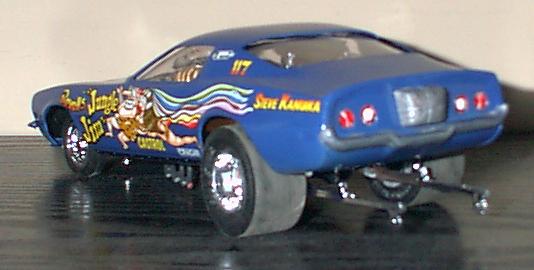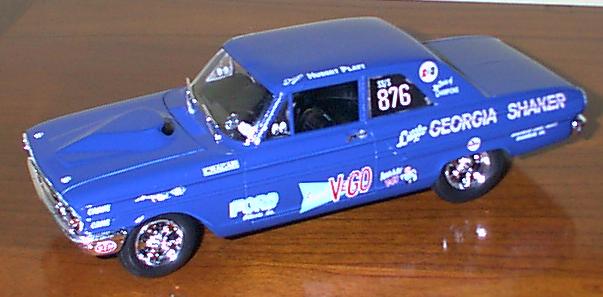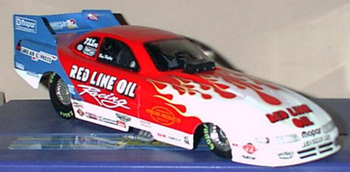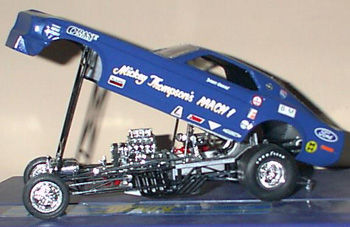 M/T late '60's Mach 1,using Polar Lights Gas Ronda kit with Slixx decals.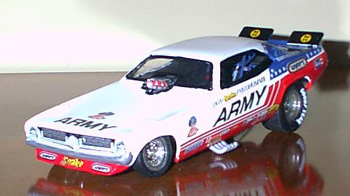 Don Prudhomme Army Cuda,using a Competition Resin body and a mixture of Revell Army Monza and Slixx Wonderwagon decals (for grille and light detail).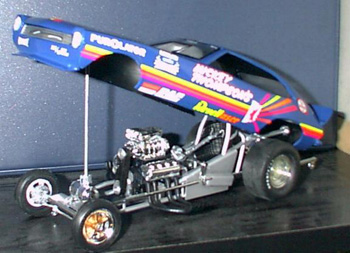 Revell M/T Revellaser kit with narrowed rear axle and later wheels to keep everything inside wheelwells.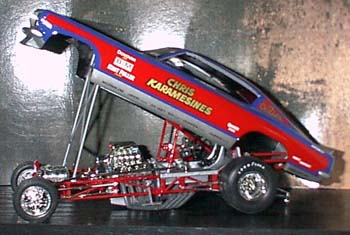 Chizler f/c,using a Polar Lights Stardust Cuda and Slixx decals.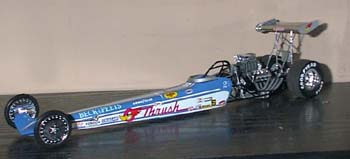 This is a restored Revell McEwen dragster,the rebuild is not that good,it was in a very poor broken state,but the excellent Slixx Gary Beck Thrush decal set makes a good display model.Why didn't I use a new kit?They are very scarce (or expensive)to get in England,and I mainly build funny cars.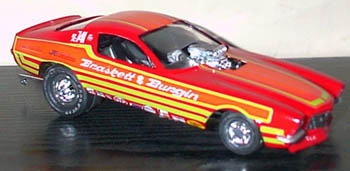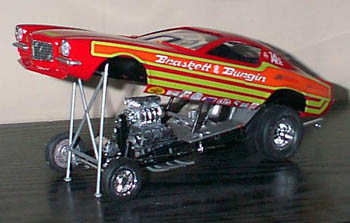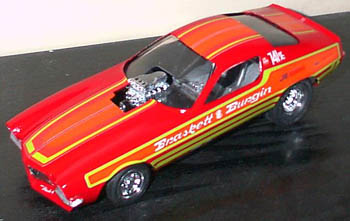 Braskett and Burgin Camaro,using a Revell Heavy Hugger kit,recommend you use a Competition Resins body,as the Hugger shell is way out of scale for the decal set.I cut about 1/2" out of the side decals,but to align the wheelarch curves of the decal leaves it short at the front.I don't have available all the colours in England,so took a guess at Raspberry/mid red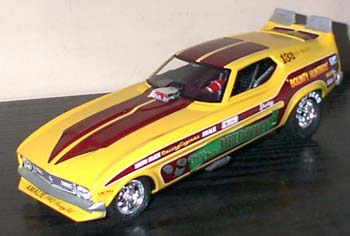 Bounty Huntress,using Revell Blue Max Kit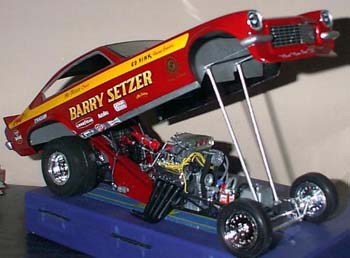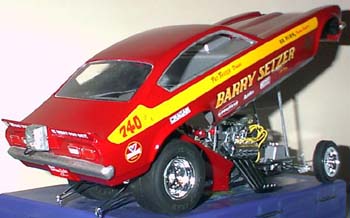 1/16th scale Barry Setzer using Revell Jungle Jim kit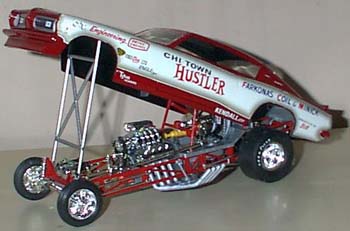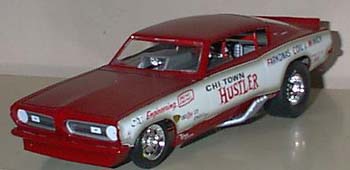 Chi Town Cuda,using Polar Lights Ghost Mazmanian kit,and the new Slixx decal set