Greg Hester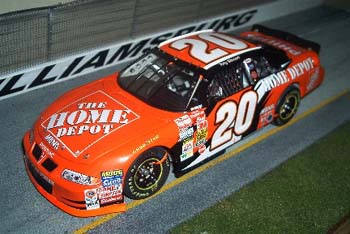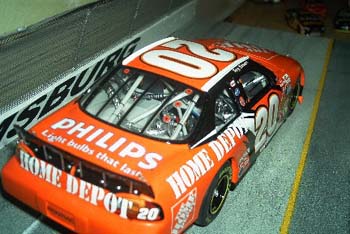 Thanks to SLIXX for the great decals that allowed me to build an accurate version of the 2002 Coors Light "McMarlin" Dodge. I also must say that Iím impressed by Revellís Dodge Intrepid kit. Itís pretty accurate and was fun to build. These pics were taken at a recent "appearance" in Edmonds, Washington.
I supplemented Revellís contingency decals with various decals from the SLIXX 2001 contingency sheet. I think they add a lot to the overall look and appeal of a Winston Cup car. I was able to get every one in its proper place according to the various pictures I had from the 2002 season. THANK YOU SLIXX!!
I also sanded the pre-printed tires that came with the Revell kit and used the GOODYEAR/EAGLE decals from the SLIXX tires goodies sheet. They are much brighter yellow and give the tires a little different look
(even though I donít mind the duller yellow either).